Shaundi is a colonist in New Verona. Before she dies, she leaves a radio tag, asking why the pain of death is more tolerable than the shame of living and why they could face a vast unknown when they could not even look their families in the eye.
Her radio tag is found in the Irradiated Zone, next to Ripley Cline.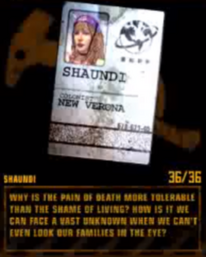 Shaundi is a character from Volition's Saints Row series. In that game, she is a lieutenant for the 3rd Street Saints, the primary gang.
In Shaundi's radio tag, sirens can be heard in the background.
Shaundi's picture matches the depiction as shown in Saints Row 2, or as Young Shaundi in Saints Row IV.
Ad blocker interference detected!
Wikia is a free-to-use site that makes money from advertising. We have a modified experience for viewers using ad blockers

Wikia is not accessible if you've made further modifications. Remove the custom ad blocker rule(s) and the page will load as expected.