Welcome to the Red Faction Wiki
The wiki about the Red Faction game universe, developed by
Volition Inc and published by THQ.
It also includes several comics and a TV movie.

Red Faction: Armageddon is the fourth installment in the Red Faction series. It was released on June 7, 2011. Like the first and third games of the series, the game takes place on the planet of Mars. The game takes place in the year 2170, a half a century after the events of Red Faction: Guerrilla, since the end of the third game the surface of the planet has become uninhabitable after the massive terraformer on Mars which supplied it with its Earth-like air and weather had been destroyed, causing the atmosphere to turn to chaos with super-tornadoes and lightning storms engulfing the planet. The player plays as Darius Mason , a Red Faction member fighting for Mars. Continue reading...

Create blog post
News
As many of you have probably noticed, Wikia has introduced a new feature - Game Calendar - that is currently being tested on Assassin's Creed Wiki.

The Calendar is displayed on most of the wiki's pages in the right sidebar, below the search box and page count, and displays a recent or upcoming video g…

Read more >


The poor sales of Red Faction: Armageddon have officially killed off the franchise. THQ chief executive Brian Farrell confirmed this in a conference call yesterday, saying "we do not intend to carry forward with that franchise in any meaningful way."

The upside to all of this? Volition, the former dev…

Read more >

Hi everybody!

As y'all can probably see, the wiki has just had a well-deserved major makeover! A shiny new mainpage, a new background, and far more to come! After the great work the community has done to create articles at this wiki, and with the upcoming release of Red Faction: Armageddon, this was…

Read more >
See more >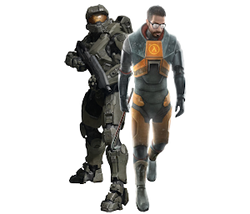 Shooter Games
Go to these sites for info or for help with your own wiki!
Battlefield • Borderlands • Brothers in Arms • Call of Duty • Call of Juarez • Counter-Strike • Counter-Strike Online / Counter-Strike Nexon: Zombies • CrossFire • Crysis • The Darkness • Destiny • Diabotical • Doom • Duke Nukem • Far Cry • Fortnite • Gears of War • GoldenEye • Half-Life • Halo • Hunt: Showdown • Killzone • Max Payne • Medal of Honor • Modern Combat • Overwatch • Paladins • PAYDAY • Pixel Gun • PLAYERUNKNOWN's Battlegrounds • POSTAL • Prey • Quake • Red Faction • Resistance • Respawnables • Rules of Survival • SAS: Zombie Assault • Shadow Warrior • Splatoon • Star Fox • Star Wars: Battlefront • TimeSplitters • Titanfall • Tom Clancy's Ghost Recon • Tom Clancy's Rainbow Six • Turok • Unreal • Warface • Wolfenstein
Want your community included? See how!
See all of our Shooter gaming wikis!