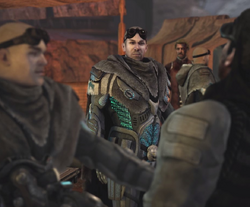 Hodde (unknown - 2175) is a corporal working for the Red Faction during the late 22nd century.
Corporal Hodde is situated in the settlement of Bastion when The Plague broke out, and protected the town from attacking aliens. After Darius Mason had escorted a convoy into the town, he tasks Darius with obtaining three power cells to get the town's defense system working, and later to restore the water pumps which had been destroyed by the aliens.
A team of Red Faction soldiers is later led by Hodde into infected territory, where the entire team is killed by the Plague. Hodde is called several times by Darius, who is determined to save him. Hodde is fatally wounded by a Wraith, and subsequently dies as a result soon afterwards, at the very moment Darius reaches him.
Ad blocker interference detected!
Wikia is a free-to-use site that makes money from advertising. We have a modified experience for viewers using ad blockers

Wikia is not accessible if you've made further modifications. Remove the custom ad blocker rule(s) and the page will load as expected.